RP Boat Shop, Steuben, ME

An RP 35 hull and top sits waiting to be finished outside of RP Boat Shop.

Signs like these let you know you've arrived in Milbridge. By my next visit, the 3 foot flower box at the base of the sign would be buried in snow and would remain that way all winter.

Sargent's Custom Boats is marked by this sign. View is looking north on Coastal Route 1.

Charlie's bark is much worse than his bite. I don't think he gets enough time around women, though. He seemed to be more than a little "excited" around my wife!

Joe (on right) and I are dwarfed by the hull of the Karen Ann II.

View of the starboard bow and forward windows, just after walking into Joe's shop. This was my first look at the new boat.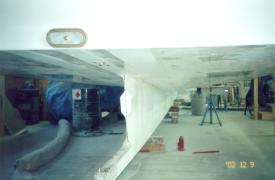 The Willis Beal design is "skeg built" vs. "built down". This gives the boat a relatively flat bottom and in this design, plenty of "rocker in the garboard". The hull bonding plate is visible on the transom.

Fabrication of the rudder is almost complete.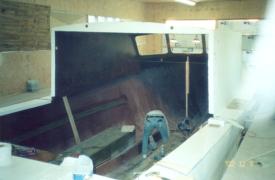 The inside of the hull and top. Montelle is glassing in the drip pan between the stringers. (I have pictures of Joe and his younger brother in similar positions; Joe jokes that I was taking pictures of the "three a--es that built the boat"!) The 150 gallon fiberglass fuel tanks are in place, and you can see the floor flanges glassed to the inside of the hull. Just below the windows you can see a string tied off marking where the main bulkhead will be.

This picture was taken through a forward window (munion visible at right). The white line is the string marking the location of the main bulkhead. You can see the fuel tanks are mounted fairly well aft to keep weight towards the stern to improve performance in a following sea. The red 5-gallon bucket and the 6-foot broom at left give a sense of how deep she is.