Now THAT'S a boat! The windows are in, the visor is glassed on, the wheelhouse has been sprayed with gelcoat. She's got a real "look" now.

Here you can see the wheelhouse from the backside. You can see the wings that have been installed on the back/sides of the wheelhouse to give her a little "flair". There's still a little bit of gelcoating to be done, but this gives a good idea of what a near finished product looks like compared to unfinished fiberglass. The doors are standing up at left, waiting to be hung.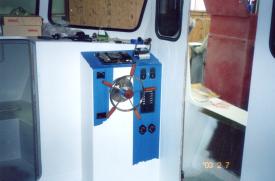 We just finished laying out the helm station. You can see my instrument panel with kobelt controls on top of the helm unit. To the left of the steering wheel is my cabin heater fan, with the main bilge pump at lower left. To the right, from top to bottom: windlass switches, 8 breaker panel, windlass circuit breakers. Everything was cut out with a jig saw, but before cutting, we taped the entire helm to pencil in guidelines and to keep the jigsaw shoes from scraping up the gelcoat.

Here you can see the finished helm station, along with the electronics that will be dash mounted. From left to right, 10" color machine, 10" radar, simrad autopilot control head, compass. You can also see my portable helm seat in the picture. Down forward the bunks have been completed, there is a hatch in the crash bulkhead to access the anchor rope locker, and another hatch awaits installation.

Here's a closer look at the electronics as Joe cuts in one of 3 access hatches to storage beneath the bunks.

This is the enclosed head. In the back is the access panel to get to the wiring behind the helm. At the bottom of the picture you can see the platform for the head itself. I had Joe add another 6" - 8" to the platform to get the toilet up to a good level.

Montelle drills the hole for one of my transducers.

This is a Vickers solenoid valve. The hydraulic lines from the steering rams connect here, and the solenoid is wired to the autopilot. When the autopilot is engaged, it then controls the hydraulic steering system.

Saturday afternoon, Feb. 8th was a pretty day after it snowed that night. I took a ride down to Winter Harbor where we would launch the boat. This is the view coming in to town, with the Schoodic Peninsula (part of Acadia National Park) in the distance.

The snow covered ramp where we launched at Winter Harbor Marine. At the top right you can see the yellow hull of the "Tyler M", a 40 foot Young Brothers finished by Sargent's.

"You Name It" vinyl lettering in Gouldsboro, ME. Scott and Klair Mosher did the lettering on the boat, as they do many boats in the area.