Here she is, just about ready to go. The name is on her, with the guards just above. The wipers are on her, as is the spotlight (just visible at top) and the anchor pulpit (top right). The engine in the foreground is a 375 HP Deere for the next boat.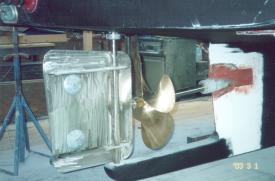 26" x 24" x 4 blade nibral wheel from H&H Propeller.

Custom anchor pulpit from West Fabrication. The windlasses are from Good Automatic Windlass here in Barnegat, NJ. Also visible is the bitt (samson post) and chocks, also from West.

A look at the side of the wheelhouse with the doors on her. You can see the coaming on the inside of the washboards. On the top of the wheelhouse is the spotlight and the horn. On the dash you can see the teak trim, prior to being oiled.